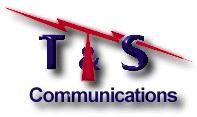 Services
•Business Telephone Systems
•2-way Radio


Why choose T&S?


T & S Communications Ltd. began in 1982 selling and installing two way radio equipment. Since that time, changing technology has augmented our view, increasing our vision of service to the whole communications market.

We are proud to deal in Samsung, Midland LMR, Vertex Standard, Icom and many other fine communications products. We provide superior service in repair,cleaning and moving customer owned telephone equipment.

Clients include: Northwood Pulp, Arrow Transportation, Slocan Forest Products and others. These custom products have included items that provide for safety and recently a stand alone radio call box.

Over the years we have also provided customers with our expertise in video cameras, monitors, and alarm systems.

Our customers enjoy "Interconnect" telephone service, "Paging" or "Repeater" service.
No matter what your communication need is, T & S can provide the solution.


We desire to provide the best to you.
Our motto is: "Service at an affordable price."